Nuclear Nation is director Atsushi Funahashi's attempt to engage us in conversation. This documentary introduces viewers to the former residents of Futaba, the location of the Fukushima Daiichi Nuclear Power Plant, and gives us a window into their lives after the disaster. The film follows the town's residents, their lives as refugees, and everything that comes with that: communal living in an abandoned high school near Tokyo, coming to terms with the loss of family members, the loss of home, the lack of compensation, the questions about health from radiation exposure- the list goes on and on. Meditative and disturbing, this story of survivors raises more questions than it answers, giving viewers an intimate portrait of loss.
It's midnight in Japan when I reach Atsushi over Skype. He's just returned from a full day of shooting his next film, Nuclear Nation 2, which continues the story. He briefly updates me on how the families profiled in the movie are doing today before we turn the discussion to Nuclear Nation.
Atsushi, I heard you originally began filming Nuclear Nation just weeks after the disaster. How did this project begin for you?
"At that time I was preparing to work on a fiction film and it was cancelled due to the earthquake and tsunami. So, I lost my job for 3 months and had nothing to do except watch this disaster on TV and wonder what to do. CNN and American media were saying it was like Chernobyl and there was this meltdown going on. Meanwhile, the Japanese government didn't say anything. They were very ambiguous and said there was no immediate harm to human health. I was living in this gap, this huge information gap, and I was frustrated. No one even knew how far away you really needed to get from these nuclear reactors to be safe. First the government said you must evacuate 3km, then 10km, then 20km. Meanwhile, the American government issued an advisory to Americans in Japan that said you needed to get at least 50 miles away, which is 80km. No one seemed to know the right distance. Then, this small town called Futaba, which is the location of the Fukushima Daiichi Power Plant, evacuated its people 250km, which is almost to Tokyo. When I heard this news, I thought this was the right answer. Basically, you don't know the implications of this nuclear disaster so you need to get as far away as possible. Futaba was the only town in Fukushima prefecture that did that. So I became immediately interested in this town. I went and met people and met the mayor and started talking with everyone. I am not a big news corporation. I am a freelance filmmaker. I knew if I wanted to tell this larger story of what was going on in Japan I needed to focus on something specific. I realized I could follow Futaba's story because the town actually moved its town hall and citizens to an abandoned high school. Everything was in this high school so I thought maybe I can focus on this town's experience. The concept was to shoot this microcosm that then tells the larger story."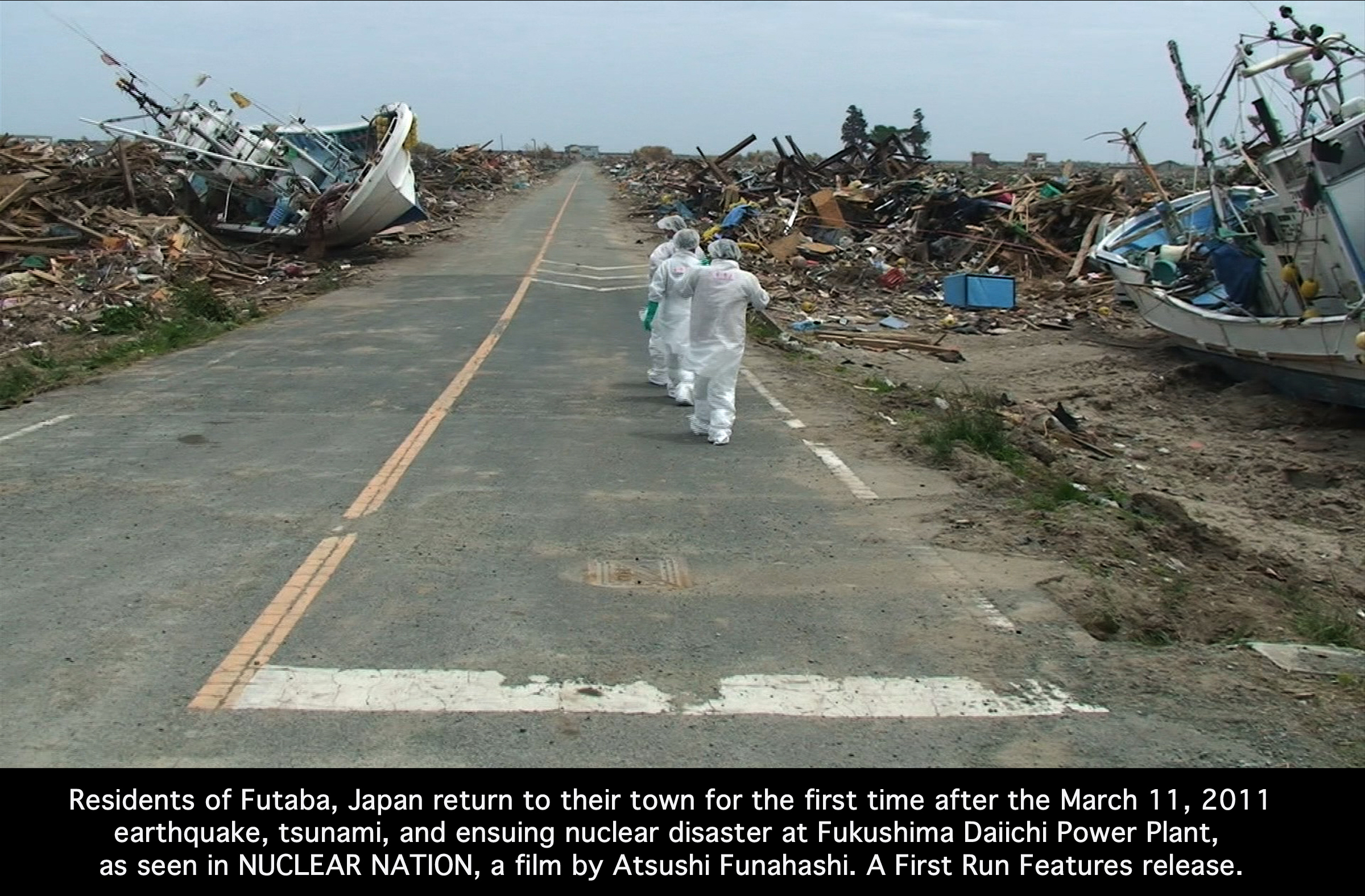 Your footage of Futaba after the disaster is haunting. How were you able to negotiate access to film in contaminated areas and how did you protect yourself from radiation?
"The Japanese government didn't allow freelance media to go in there, they limited access to big media corporations. Ironically, these big media corporations said they would not send their people in because they were not going to have their people in this highly contaminated, radioactive area. They had to protect their workers. So, all of a sudden, there was a situation where no one was going in and reporting. I wanted to go because I wanted to be with the people from Futaba when they were allowed to return home for two hours to collect their belongings. Of course, I couldn't get permission because the government only issues permits to these official news corporations. The Japanese constitution says that citizens have the right to know what's going on and the media has the right to inform the public. I told the authorities that according to the Japanese constitution this is my right, it's guaranteed. They told me, "I see what you are saying but we cannot grant you access." After that I had no option until one of the Futaba families I was following told me they had 4 permits to return to Futaba for 2 hours and only 2 family members going back. So they asked me, "Do you want to go? We need help carrying heavy stuff." That is how I was able to get a permit to go there. I went in, with them, as part of the family. For one hour I helped them pack and carry heavy stuff and for the other hour I asked them to let me go and shoot the shots you see in the film. I actually borrowed a bicycle from them and, by myself, went all over this radioactive area. There was no electricity, no cellular phone service, no one there. As you saw in the movie there were only animals walking around. I knew if I got lost that's it. No one would be coming to rescue me. That was scary… Can I change the topic for a minute?"
Of course.
"One thing I would like to stress is that the radiation exposure limit defined by the Japanese government is totally wrong. It's really a human rights violation. The international standard defined by the International Commission on Radiological Protection (ICRP) is 1 milli Sievert (mSv) per year. When Chernobyl happened, the former Soviet Union redefined the limit as 5 mSv per year and was heavily criticized by the international community for not protecting its people. The Japanese government has since redefined the limit as up to 20 mSv per year. This is 20 times the international limit per year. This is a crime. It's evil. The reason they set it up like this is because they don't want to pay compensation money to people and because they don't want to have to declare large amounts of land as unlivable. There are huge areas, outside of Futaba, that are exposed to between 1-20 mSv of radiation and people are forced to live there today because the government is not protecting them. People have no choice other than to continue to live there because the exposure is not recognized as over the limit and the government will not offer compensation."
What do you want Americans to take away from watching this film?
"This is a human rights violation. That's what I want the American people to understand. Rich people can move on because they can afford to buy another house or start over, but the middle class and poor people cannot restart their lives because they cannot afford it, so they wait. These people are living in temporary housing, which is awful. Some are even still living in the abandoned high school. Living in that type of condition 3 years after this disaster is not acceptable. As of now, most people have not been compensated. TEPCO and the Japanese government have come up with some money, but it's a ridiculous, unfair amount; it's very cheap. Some of the people had to give up and take that money but some of them continue fighting. There are also, as I mentioned before, many people being forced to live in this radiation, especially in the zones that have 1-20 mSv of exposure. The Japanese government does not protect these people but they should because the radiation level is over the international standard. The Japanese government is ignoring this. I want viewers to ask, why are the most damaged individuals also the most ignored? I want people to think about this."
Nuclear Nation will be coming to select movie theaters around the country. To find out where and when to catch this film visit: http://firstrunfeatures.com/nuclearnation_playdates.html